PAEDOPHILE, DISGUSTING See RICHARDS, DALE, WILLIAMSON, MARK

PAEDOPHILES, WORSE THAN See alt.digitiser, ATARI ST

PEDANTS Liking to promote the correct use of the English language and good grammar, alt.digitiser is full of pedants who will pick you up for typing things like "your" instead of "you're". There is, of course an acceptable misuse, in the form of two word sentences, such as "YOUR GAY".

PETITION NOBODY FUCKING CARES.

PETITION, ONLINE NOBODY FUCKING CARES TIMES TWO.

PINK RAGE MARK WILLIAMSON invented the term PINK RAGE to describe NICK MOONEY'S increasingly rude private messages to him after he banned him from #DIGI. Apparently he started asking Mr Williamson to "STOP PRETENDING TO BE AN ADULT AND ACT MORE MATURE" or something.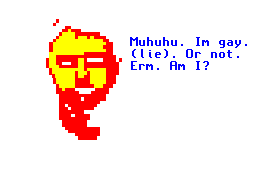 PIPER, TANE Doesn't post very often. Creates errors in several of the entries in this guide by admitting to being bisexual. Although alternates in his opinion of his sexuality. Does not use a pseudonym. It is his real name. Apparently. Born of cruel parents. Moved to Holland and, thankfully, disappeared. Posted a new post a few weeks ago. BAH. Hasn't posted anything since. HURRAH!
POO See TOILET HUMOUR.
PRESLEY, PAUL Occasional poster. Sometimes a frieze. Might be employed by a Top Selling UK Computer Magazine, but as he posts so infrequently, I can't remember.
PRINCE, LEE Another Spectrum boy (still, at least it's not Linux, eh?), Lee Prince also has the distinction of being fairly amusing at least sometimes, and working in a place that sells terrible, terrible tat to MARK WILLIAMSON'S theme park. Crikey, imagine how scary a MARK WILLIAMSON THEME PARK would be. And yet, while populated solely by sinister painted paedophiles (aka clowns) operating rides designed by Gary Glitter, Jonathan King, Matthew Kelly (no relation) and John Leslie (no relation, but come on, he did look at that Blue Peter tortoise a bit funny once), you wouldn't be able to help but have a great deal of fun. You're going to dream about it tonight. The clown's hands touching you gently all over your naked body as you get onto the rides. CLOWNS. BAN THEM ALL NOW.
PR0T The spiritual home of both alt.digitiser and #DIGI, in that nobody actually lives there except JAMMO and MARK WILLIAMSON, who has even gone as far as to promote tourism in the town by working at the local theme park. Secretly though, we all wish we did live there so we could all have big Pr0t parties, and shout at local MP John Pugh in Asda. Also the birthplace of the bloke out of the "Confessions Of" 1970s soft porn comedies. Current residents include Alan Hansen, Mark Lawrenson, and Hilda Ogden out of Coronation Street, if she's not dead yet.